Want a perfect fall drink + breakfast perfection? I have the best pairing for you: lavender latte + vegan donut muffins (
which Evan creatively calls "duffins"
). The lavender latte was something I first tried in San Francisco as was so enamored, I had to snap a photo for keeps (
see above, the bottom cup, speckled with little dried lavender buds on top of that delicious latte foam
). I'm not a coffee drinker at all, but I couldn't pass up the
BlackPoint Cafe's
signature drink on a chilly morning in SF. Now, if only I had an expresso maker + milk-foam maker thingy, I could make these at home myself! But perhaps you are a coffee drinker and do have these little gadgets, then I have some recipes for you (
umm, yes and of course I'll get to the dessert breakfast!
):
I found an easy recipe from
Turntable Kitchen
. I've written out the ingredients for you below: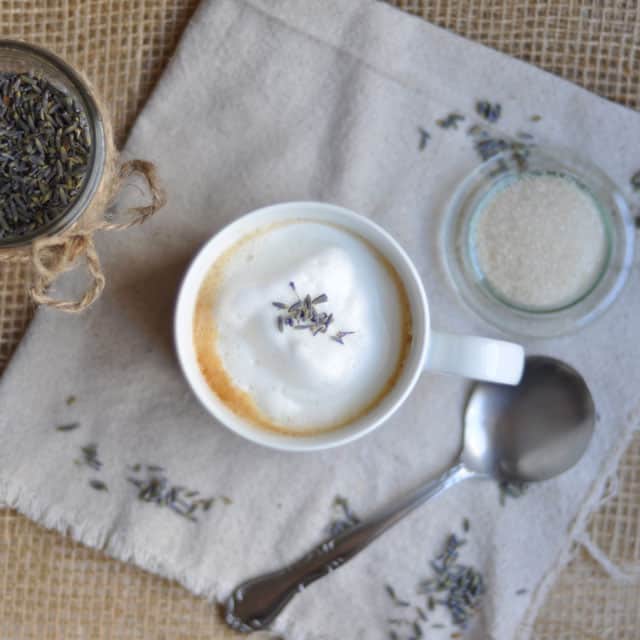 via Turntable Kitchen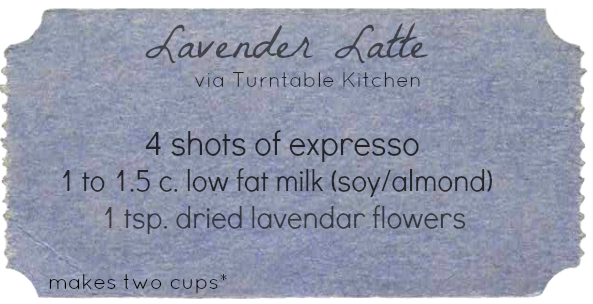 Using your little machine, here are your very easy and basic steps:
Make four shots of expresso (do the following steps while that is prepping).
Add your milk and dried lavender to a small saucepan and gently warm it over very low heat.
Once warmed, remove the milk from the heat and let the lavender flowers steep for 5-10 minutes.
Use a strainer to remove the lavender leaves from the milk; discard the lavender leaves.
Steam the lavender milk by just barely dipping your steaming wand into the milk (do not immerse your wand in the milk as this will burn it).
Divide your expresso between two mugs, pour the milk and then scoop any remaining foam to the top.
Easy and delicious! And here's another recipe for a unique
Lavender + Earl Gray Latte
! Check it out because it sounds
wonderful
as well!
Ok, now I'm sure you're just so curious about these duffins. How are the vegan and how are they made? Well, of all places, I found this recipe via Pinterest. I recently had a reader (thanks Jenny!) describe how she's been using Pinterest to find the most unique and easy recipes. I'm glad I share that interest! So, these yummies look like this: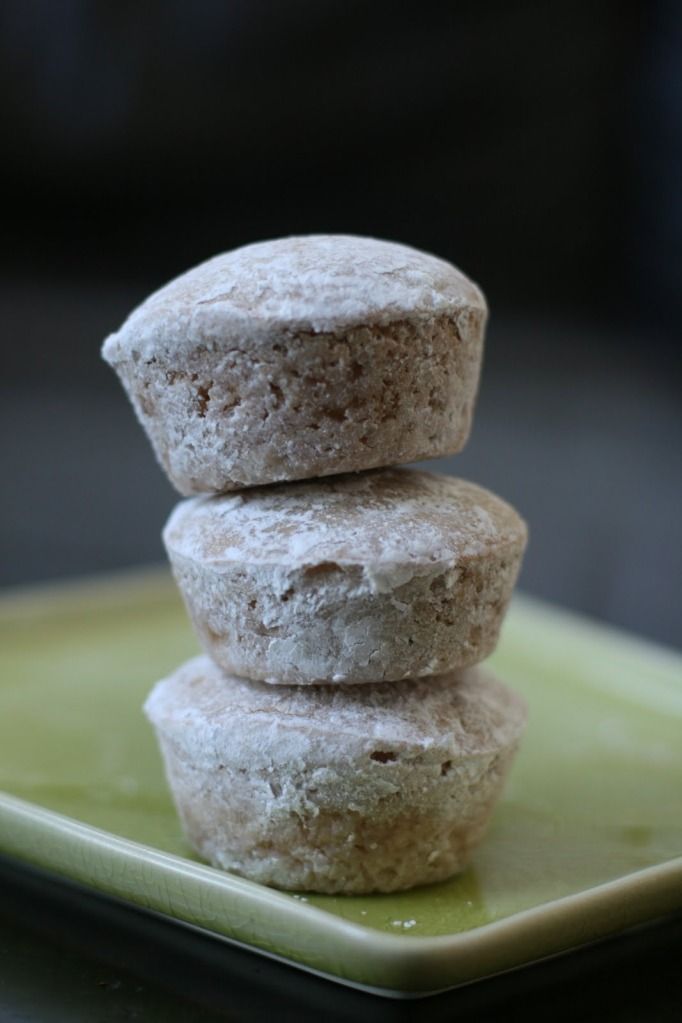 via Week of Menus
Thanks to Week of Menus for the creative vegan culinary twist to a basic muffin. The recipe makes 11-12 muffins (mine made 10) and you must use vegetable oil and not to substitute it for anything else. Trust me, the consistency really depends on vegetable oil. The first time I made them, I tried using apple sauce instead (thinking, ya know I can make these even more healthy-ish) but to my avail, the duffins were thick and rubbery. Ok, ok.. I'll follow the real directions next time.
And I did. And they turned out way better. However, a hint to all my Caribbean islanders and humid-locale-dwelling readers, do not leave these duffins out in your kitchen, or your powdered sugar will just soak right into the duffin and turn your pretties into soggy lumps. I learned this the hard way, which was purely stupid on my part as I've lived here over a year now and I know this nonsense. But anyways, try your hand at these easy-peasy little dessert-for-breakfast treats!
And here are the easy steps, thanks to our friends at
Week of Menus
for the test-run, creative recipe and advice!
Preheat oven to 350F. Lightly grease a muffin tin with cooking spray or vegetable oil. (Do not be tempted to use liners - the point of doing these directly in the muffin tin is to have them pop out and be able to get sugar to stick to the sides without the addition of butter).
In a large bowl, beat together sugar and mashed banana until well incorporated. Pour in vegetable oil, coconut milk (or soymilk or almond milk) and vanilla extract. Mix to combine.
In a small bowl, whisk together flour, baking powder, salt and cinnamon. Pour into wet mixture and stir to combine.
Divide batter evenly into 12 muffin cups, filling each about 3/4 full. Bake for 15-20 minutes, until a tester inserted into the center comes out clean.
While muffins are baking, pour confectioners sugar into a small bowl.
When muffins are done, allow them to cool for about 15 minutes. Pop them out of the pan and then roll them in confectioners sugar, coating all the sides until it is completely covered. Repeat until all muffins are done.
Want a printable recipe?
They have one here
with your ingredients and steps all together in one.
Have a beautiful morning and splendid day my friends! I hope you try these recipes and come back and let me know how they are! Particularly the lavender latte, as I'm still working on a way to make that myself at home without all the fancy coffee maker gadgets. (
humor me, there's a way!
).
Today I leave for a quick weekend trip back to Florida! I'm so very excited, and I'll surely post some photos via Twitter and Facebook. No worries though, there will be a post tomorrow :)
Until then,